2020: New on the layout this year is the British Columbia Railway Royal Hudson 2860 which pulls a consist or British Columbia Railway passenger cars for special tours on the layout.
---
2018: Featured this year is a special program, Day Out with Thomas ™, in which an appropriate replica train makes its appearance at the layout's historical village.
---
2017: Special effects are a big part of RHJ Rail and recent developments have seen the installation of a telegraph system which can automatically transmit telegraph messages to any of four stations around the layout. In addition, this antique telegraph device can receive messages as if they were sent a century ago. And, of course, its all controlled by DCC.
---
2016: On a fall afternoon, The Rocky Mountaineer descends through the foothills and past the rural community of Barhill where some young children are waiting with their parents for their brothers and sisters who have just arrived on the school bus. All are looking forward to the weekend to enjoy some time off and possibly watch more trains on the two bridges just to the left of this scene.
---
November 24, 2014: A long coal drag backs carefully down the western helix at Mars Valley. This movement was made necessary to clear trackage on the main layout for the 2014 edition of the RHJ Rail Christmas Holiday Train which is being prepared for its December 2014 annual run. The BNSF unit is part of the consist for run-through unit coal trains which frequent the layout and contribute significantly (although not always in a positive way) to bottom line.
---
2014: The Historical Park subdivision of RHJ Rail includes an amusement park with animated rides, music, special lighting effects, trains of a century ago and other features while the double-track main lines pass around the park, often provoking noise complaints from the many park users.
---
2014: Arrow Park Historical Village is preparing for a busy day, including a car "show-and-shine" event. In the background, the small town of Wild Rose can be seen with its grain elevator tracks being used for extra storage for some antiquated railway equipment recently acquired by the park. Also in the background, to the right, can be seen the scratch-built Corner Gas replica.
---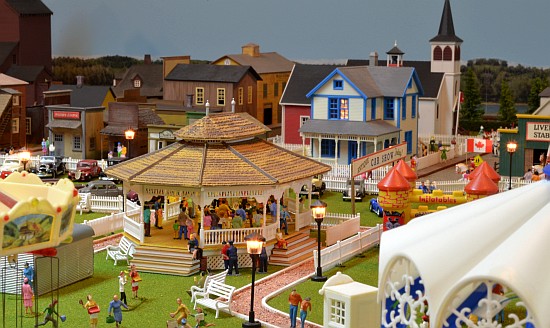 2014: During a busy evening, a couple of rowdy characters is detained while a purse-snatcher dashes behind the backs of the policemen on duty at Arrow Park Historical Village.
---
2011: The annual Christmas Holiday Train comes to RHJ Rail. This year saw the addition of a new stage car with flashing external lighting, a folding side door, a group of performers and, of course, Santa Claus. Interior lighting has both flood lights and variable coloured spot lights. Lighting effects are controlled by DCC. Appropriate seasonal music is played automatically.
---
2010: A warm afternoon in late fall sees a few hardy folk getting in some last minute recreation while a potash train rumbles overhead on the high arch bridge over Stoney Creek. The potash train and others can now be operated from the new Automated Operations Control Centre.
---
2009: Rounding the curve on the scenic Mount Vincent descent from Stoney Creek, an eastbound 50-car potash train makes its way down from Stoney Creek passing above Mars Valley on a cold winter day in late December.
---
2009: Nearly a month earlier at the same location, the 2009 version of the RHJ Rail Christmas Holiday Train makes a nighttime descent from Stoney Creek. In this edition of the train, all lighting was powered by DCC with a mobile decoder in the first car. Due to heavy electrical demand, the MOTOR OUTPUT of the decoder was used to power the train lighting.
---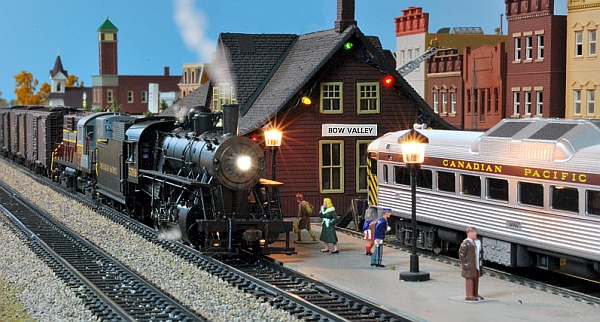 2008: Mixed train 5789 stops at Bow Valley at dusk for opposing traffic while passengers wait patiently for their car to pull forward so they can board. Dayliners 9056 and 9020 are spotted on the station spur for early morning departure northbound. Since this photo was taken, Bow Valley has grown to beccome Bow City.
---
2007: As Calgary grows rapidly, RHJ Rail has increased traffic volume in an effort to improve shareholder value while, at the same time, embarking upon an ambitious program to acquire, preserve and restore railway equipment of historical significance.
---
2006: Now four years into a five year development plan, the RHJ Rail HO scale home layout is nearing completion. The over-all layout dimensions are 42 by 19 feet (12.80 x 5.79 m), separated into two divisions by a central see-through room divider. The layout style is around-the-walls with one peninsula and a lower level for storing long trains.
---

2005: About three years into a five year development plan, the current RHJ Rail home layout is fully operational but lacks some scenery elements and details. The layout is a total replacement of the original 12 by 12-foot home layout built in the early 1970's .
---