RHJ Rail
is a large HO home layout influenced by Western Canadian railroad operations. One of its goals is to collect, preserve and restore railroad equipment of historical significance.
---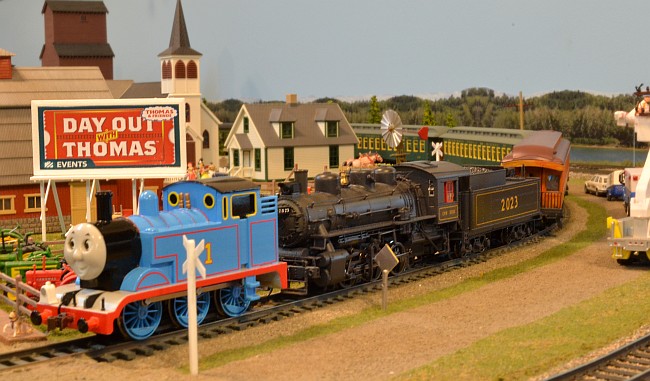 Featured this year is a special program, Day Out with Thomas ™, in which an appropriate replica train makes its appearance at the layout's historical village.
The replica cars, based on the real ones as they appeared at Heritage Park in Calgary 20 or more years ago, nicely represent the prototype consist used at the above event and were built by RHJ Rail some two decades ago. This train shares the single-track heritage park subdivision with the train which operates there the rest of the time and automatic procedures enable the swapping of the two trains when required.
Although RHJ Rail has had steam locomotives representing CPR 2023 and 2024 (the real locomotives at Heritage Park) for many years, those model locomotives were old and not up to today's standards and have been retired. A new set was built this past year based on the high quality Like Like Proto 2000 Heritage series of steam engines produced several years ago.
Also new this year is an expanded Rocky Mountaineer consist with three locomotives, five coaches and two full-length domes.

---
Unless otherwise specified, photo credits: Richard H. Johnson